General Information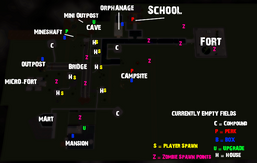 The Map is Stranded On Earth's only game world, which features a wide variety of things from defensible homes to special machines to boost the users.
Locations
The following locations are all found on the game map:
Trivia
During the winter months of the year, the ground is covered in snow.
During the autumn months, the grass and trees start to die and lose their green color.
The current map is at least 6 times smaller than what it will become in the future.
Obsolete Map Information
Apartments - Removed due to large block count and other reasons
Ponds - Removed for unknown reasons
Community content is available under
CC-BY-SA
unless otherwise noted.