Summary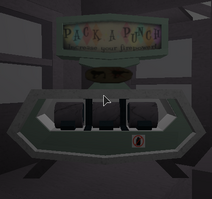 The Pack-a-Punch (PaP) is a special machine that will upgrade a weapon of choice into a powerful zombie-obliterating machine.
Suggestions
If you have suggestions of what gun you would like to see Pack A Punched if it isn't on the list yet, post suggestions here.
Locations
The Pack A Punch machines are only found in two specific locations of the map:
Location #1: Mansion - In the room beside the massive whole in the wall on the second floor
Location #2: Vector Cave - In the far back room of the cave, in the corner
How To Use
Find a Pack-a-Punch machine and walk up to it. A small GUI will appear.
If there is a gun in your inventory that can be Pack-A-Punched, it will appear on the list.
Click a gun's name on that same list and click the Upgrade button to buy the upgrade.
NOTE: If you are holding the weapon while upgrading it, nothing will happen.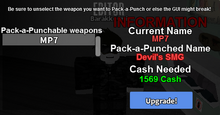 Pack A Punch Weapons - Original Counterpart
Remade Pack-A-Punch Weapons
The following is a list of guns that were remade, and thus have proper stats, with no latency:
Pages to Expand
This is to list all the pages which I, the wiki editor, am too lazy to edit planning to expand on
Trivia
Community content is available under
CC-BY-SA
unless otherwise noted.