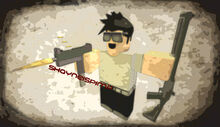 SHAYNEISPIMP is an admin, gun maker, and the co creator for Stranded on Earth: The First Strike.
Jobs
-One of the things SHAYNEISPIMP does, is he moderates the server. He has the power to kick, ban, and reset your cash. He does not appreciate hackers and will ban them at the first sign of them hacking.
-He also makes guns for Stranded on Earth. He is currently "on break".
About me
I mostly play games on Steam or on the Playstation 3.
I am a HUGE Grand Theft Auto fan.
I listen to Eminem.
My steam is: shayneispimp
My skype is: shayneispimp
And my PSN is: ish00tyouhead
(If you choose to contact me there, don't be annoying and don't spam me)
Community content is available under
CC-BY-SA
unless otherwise noted.